Performance Management
What is Performance Management?
Performance management in HRM refers to the process to ensure that the organization connects mission with the work of employees.
One of the primary HR activities is to manage employee attitude and behaviors. Managers do this by using performance management programs.
Performance management involves two related activities;
Evaluating the performance of the employees against the standards set for them.
Helps the employees to evolve the action plans to improve their performance.
Performance Management Meaning
Performance management is a continuous procedure which takes place throughout the year through communication between the supervisors and the employees in order to achieve the predetermined aim of the organization.
Performance management in HRM is a set of activities composed to ensure that the organization obtains the desired performance from its employees.
Effective Performance Management
It depends on the evolution and implementation of suitable performance management tools, feedback and documentation.
After the effective performance management program, a manager is able to answer the questions such as;
How can I best measure performance?
How can I best communicate the feedback to employees about their performance development?
How should I communicate to employees?
How should I manage poor performance?
Outcomes of Effective Performance Management
Clarifying the job responsibilities and expectations.
Enhancing individual and group productivity.
To develop employee ability through emphatic feedback and coaching.
Driving behavior to align the organization's values, goals,and strategies.
Providing a basis for making human resource decisions.
Improving communication between employees and managers.
Prepare employees for work by focusing on the most important components of their job.
What Performance Management should do?
At a minimum performance management in HRM should the following four things.
Make clear what the organization expects.
Document performance for personnel records.
Identify the areas of success and development.
Provide performance information to employees.
Performance Management Purpose
Administrative;
The first purpose is administrative in nature because it directly affects a firm's administrative decision regarding its workforce.
Firms use performance evaluation to make decision regarding their employees salary adjustments, merit raises, and incentive rewards.
Manager must make decision regarding the promotions, demotions, transfers, terminations, and even layoffs of individuals.
Knowing about the current performance of your employees as well as the potential of the employees to perform their job will help you to take decision about movement of employees within or outside of the organization.
Mangers also use performance evaluation data for disciplinary purposes that is to reinforce the attitude and behavior of employees should display on a daily basis.
Developmental;
The second purpose of performance management is developmental in nature using performance evaluation information to help employees improve their performance in order to add more value to the organization.
Performance management perform a important role in identifying the training needs of employees.
For example, if the employees do not perform optimally, a developmental emphasis endeavor to find out the areas where the employees performance need improvement. And then it will help to implement a course of action which helps the employees to meet their potential.
If a problem arises due to the behavior of the employees then a developmental approach involves the disciplinary actions to indicate employees that current actions or behaviors what they show may not be acceptable.
Generally a developmental approach also deal with succession planning or right employee career development.
Performance Management Process
There are five steps related to developing and implementing a good performance management process.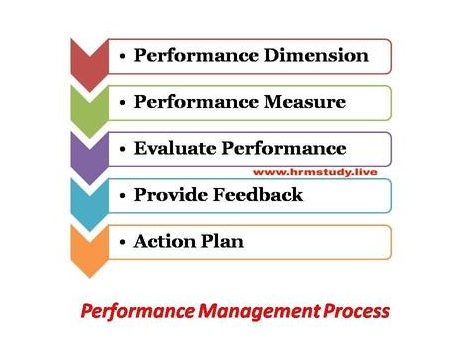 Performance Dimensions;
This process starts with identifying performance dimensions. Performance dimensions associate with the special tasks and activities for which employees are liable.
Performance dimension serves as a starting point for developing an effective performance management system. The job which the people perform, generally consist of multiple performance dimensions.
A job performance dimension should reflect the reason it exists in the first place. The performance dimensions should reflect the tasks, duties and responsibilities of that job.
Performance Measure;
After knowing dimensions now you have to be able to measure an employee's level of performance on the dimensions you have identified.
In order to to make performance evaluation effective system should use valid, specific and clear standard of measuring the performance.
Performance measures must be reliable and valid. Reliability refers to how well the measure yields consistent results over time.
Rather, validity is the extent to which you are measuring what you want to measure and how well it is done. Really, the valid performance measures convey the genuine performance of your employees.
Sometimes due to the use of deficient or defective measures method, the performance evaluation become awry.
One key consideration in developing performance measure is clarifying the level of expected performance, or performance standards.
Evaluate Performance;
There are number of ways through which the performance of the employees can be evaluated by managers. They can compare and rank or order them, rate them against preset standards or evaluate the results and outcomes of performance.
These methods vary in some important ways, some methods focus on measuring performance outcomes like quality, speed and sales whereas others focus on employee traits and behaviors.
There are various methods to evaluate performance like ranking method, paired comparison, forced distribution method, graphic scale method, 360 degree, behaviorally anchored rating scale, etc.
Provide Feedback
Further step in the process is providing feedback to the employees to help them improve their performance. In order to make feedback effective, the it should be provided in set interval of time and in a professional manner.
Organizations vary in terms of how often they provide performance feedback. Most of the supervisors are required to formally appraise employees in every six months to one year.
Providing feedback to employee is an ongoing task. However, ideally supervisors will be providing feedback on a daily basis to employees.
Action Plan
Giving feedback to the employees is not sufficient to improve their performance. Rather effective managers take another step, they work with their employees to diagnose the source of performance issues and might help to drive strategies and set expectations to improve those issues.
Doing so requires a queer clear understanding of the nature of performance efficiency. The development of a plan to address performance problems and effective discipline of employees.
Taking action requires us to remove barriers, training and development activities to be implemented, coaching and mentoring to be pursued, and work design and technology solutions to be implemented as well as addressing the overall quality of performance on an ongoing basis.
Related Posts;
Conclusion
When you understand about the performance management in right manner, then you will be able to compose and execute a performance management system.
And it will motivate your employees to covey the necessary attitudes and behavior at work which will help your organization to achieve competitive advantage.
Performance management in HRM includes activities which ensure that goals of the organization are consistently being met in an effective and efficient manner.